First let us consider the false superiority of hypergamy.
Women rate 80% of men as below average in attractiveness. In other words, women of average rating believe themselves to be the equal of men rated within the top 20%. This indicates a hugely inflated self-rating by women. On a scale of 1 to 10, a woman of 5 thinks she's an 8. I don't think this false superiority is confined to attractiveness, either. I think females believe they are superior to males in every respect.
Three years ago molly asked what hypergamy does to women rated 10. Well, IMHO low-rated women are more prone to over-rating than high-rated women are. Big Red, a woman of 1, has a self-rating so vainglorious that all men are expected to grovel to her wisdom. Triggery Puff, a woman <0 (I'm tempted to rate her sub-zero), commanded attention with tantrums. Her inflated self-value prompted her to subject everyone, women included, to deafeningly disrespectful behavior.
BIG RED:
Who is an example of a man of 10 in good looks? I'm not a good judge. George Clooney is often put forward, but Choicy's countryman of yesteryear, Errol Flynn, had an appearance suggesting strength and not just the pretty face.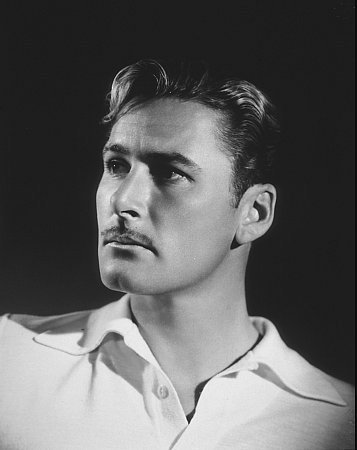 I think very few women of 8+ would rate themselves higher than their male counterparts, but I only have my own personal observation to go by. I grew up with female 10s in my life, and I'm sure they'd be embarrassed to be put on a par with Errol Flynn.
A fundamental characteristic of feminists is that they put themselves above any man. It also seems that the percentage of genuine 8+ women among prominent feminists is below that of the general population. This could explain why female Trump supporters are better looking than anti-Trump women. As Trump supporters they are less likely to go with the unattractive feminist type. As good looking women they are less likely to go with the more hypergamous mob. FWIW all of the female 10s in my own life are conservative and anti-feminist.
AS for the rest – the great majority of women – hypergamy is the reason for:
The smug superiority of their comparisons between male and female.
The success of the prolific advertisements that belittle the male of the species.
Their determination to substitute a matriarchy for the civilization that white men built.
Their determination to suppress men into subservience.
Their easy acceptance of the systemic under-educating of boys.
Their proclivity for sanctimonious preach.
Their scornful dismissal of everything that men have contributed to humanity.
Their reserving of their greatest racial hatred for white males.
Their intolerance of equality. They must have more rights than men, more income, more protection, better health care, better education, more affirmative action, more and better of everything.
Now let us consider the argument that unfettered hypergamy will produce a police state. Feminism is already calling for widening of the definitions of hate crimes, a.k.a. crimes in the mind or "thought crimes". They want sexual harassment to be a hate crime right now.
The ideological system will rely on citizens informing on each other. Bad attitude in your head will be the crime. We see examples of this with MeToo, and in university disciplinary actions. Unfettered hypergamy with its attendant female superiority will not rest until it controls the minds and bodies of the male underclass.
Further down the track there will be thought police. But wait, we already have that too – or the framework for it at least. A glaring example is the UK's Crown Prosecution Service (CPS) which not only encourages citizens to inform on the bad attitude of fellow citizens, but also has gone to great lengths to provide for secret informants. The CPS has set itself up as:
the center of hate crime policing and "thought police"
the center for a network of informants
a database of informants' opinions on individuals, who are thereafter permanently tagged.
state prosecutor
…all rolled into one. There's more from me about the CPS here.
Finally, let us consider the eroding of masculinity. Masculine men are nature's counter-balance to hypergamy, preventing a matriarchal police state becoming a reality. Feminism hates masculinity for that very reason.
Unbridled hypergamy would not stop at making gender or sex offences hate crimes and appointing "thought police" to protect women. It would strive for nothing less than the outlawing and eventual abolition of masculinity. Superiority must prevail absolutely (as I'm sure Hitler would agree).
The process is well under way. Feminist ideology is superseding nature. Masculinity is being scorned, muddled, marginalized, and suppressed.
Current events are evidence that the western world – the feminist world – is losing nature's balance at an accelerating rate. Is it past the point of no return? Is it too late to stop hypergamy now?