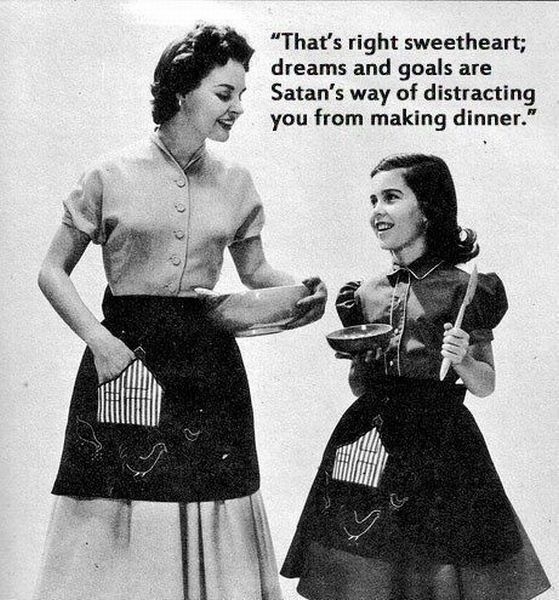 To which commenter HappyHouseWifey says,
My dreams and goals get reached more easily if I have dinner on the table in time. My dreams are to stock my mind chock full of happy memories and my goals are to maintain a wonderful happy family. To grow old and look back on a life full of warmth. To have our children *want* to come back and visit us when we're old. To make my husband feel like he is lucky to have me. 

So those hopes and dreams are quite compatible with making dinner
My Mom agreed with HappyHouseWifey.  Why wouldn't she?  She had no ambition to go out in the world, to have a career,  to be "awesome and stuff".  It was more satisfying to be at home, to make a home.  Because she did not work outside of the house,  money was tight, and we very often did without.  However, she, my siblings and myself were very satisfied with the tradeoff.
As for careers, many fella have jobs, not so much careers.  Those who do have what people might term careers, often can't wait to retire.  The work world is for most just not as satisfying as Feminists have continually suggested.  Work world dreams are often just that, dreams.  On the other hand, it being a good SAHM is easily within reach of many women, especially if they try.