The left, the Labour party : Harriet Harman (Shadow Deputy Prime Minister)
Harman co-authored a 1990 IPPR report "The Family Way" which stated "it cannot be assumed that men are bound to be an asset to family life or that the presence of fathers in families is necessarily a means to social cohesion".[35][36] In May 2008 an interview she gave to think tank Civitas Harman stated that there was "no ideal type of household in which to bring up children"
(emphasis mine)
The right, the Conservative party : Theresa May Prospective replacement for Dave, unemcumbered by a penis (it seems to be her USP, no other occurs to me)
Husbands who keep their wives downtrodden could face prison under new plans set out by the Government today.
Theresa May, the Home Secretary, published proposals for a new offence of "domestic abuse" that would criminalise men or women who bully, cause psychological harm or deny money to their partners.
The law would make the worst cases of non-violent "controlling behaviour" a jailable offence.
Exact terms of the offence are yet to be defined, but it could involve humiliating, frightening or intimidating a partner, keeping them away from friends or family or restricting their access to money.
(emphasis mine)
Even the journalist knew to which sex this was primarily to be used against.
Perhaps, the result : UKIP has more male than female voters in Rochester and Strood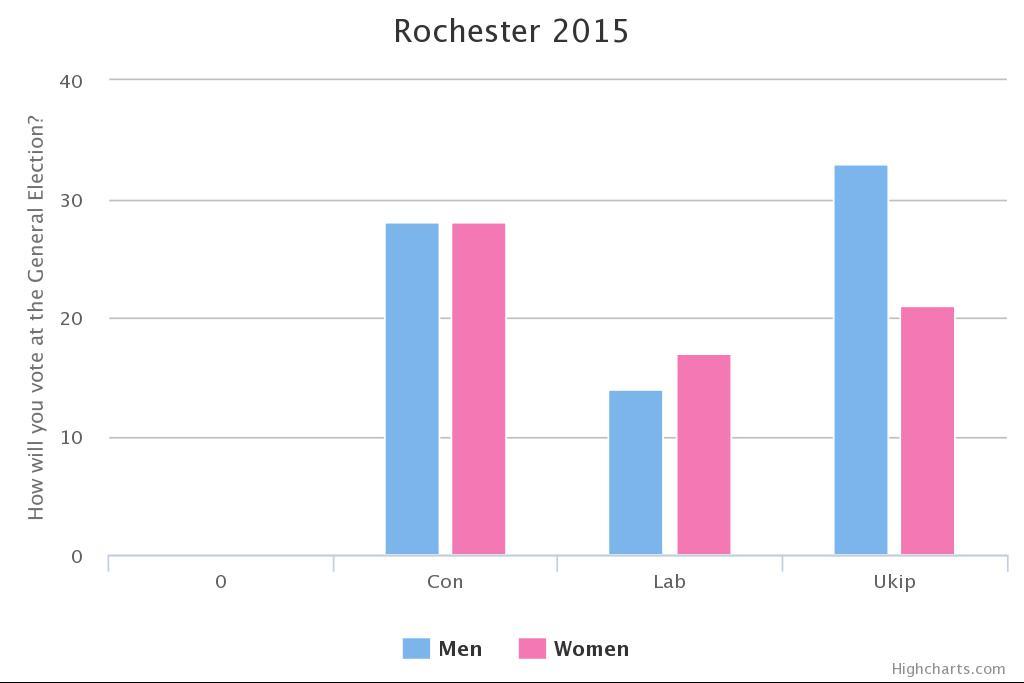 Kirkup's choice of expression reveals a great deal of the long-term political and media class bias in favour of emphasising the female vote over the male. As I have written previously, this is in no small part due to the dismal and somewhat condescending "market segmentation" approach to politics: more women vote than men, and women are more likely to be floating voters, hence the greater importance of the female "segment" (all of whom think the same way, naturally).

That an increasing number of voters, mostly men, were steadily becoming alienated from the political process and refused to vote entirely may have been thought a worrying phenomenon worthy of examination, but not for careerists whose main concern was to get through the next election intact. A second reason for this obsession with the "female vote" could very well be that it is just another facet of metropolitan liberal culture (to which, sadly, even The Daily Telegraph is now a paid up subscriber), with its lionisation of all things feminine and it's contempt for traditional masculinity (a subject for a future post).

Nigel Farage explains the male bias in voting intentions towards his party as due to the greater caution of women towards the new and untried. There may be some truth in that, but a much more interesting hypothesis is that Ukip is attracting men alienated from our feminised and misandrist society into re-engaging with the political process: it is, after all, claimed that a substantial number of Ukip voters are those in recent elections who have not voted at all.
(emphasis mine)
Both main stream politicial parties are enthusiastically trampling the interests of men in order to appeal to the female herd vote. Over recent years there have been repeated proclamations that Dave Cameron has a 'woman problem'. Not enough female MPs (only female tory candidates were offered for the Rochester – very few people voted in that election for candidate for the by-election. She then lost for whatever reason(s)). Not enough females in the Cabinet (inner circle of government – he sacked/moved a couple of capable guys in order to promote women based on their…? what? lack of penis?).
As I've said in comments a few times, it's not that UKIP has been saying much pro-male stuff (I haven't heard anything, though I admit I haven't looked), but they haven't been saying anti-male stuff. It seems that even that is enough to get men to consider voting for them instead of not voting at all (Nige's point that women are slower to try something new is valid though). The Rochester voting pattern reflects men's perception of the long term level of misandry in the parties.
The latest Tory misandry regarding 'bullying husbands' came out after the by-election. I would expect a further erosion of male support for the Tories as a result. As more men wake up to the red-pill, I would expect this effect to become more pronounced. Perhaps accompanied by a similar effect in the voting patterns of married/unmarried women. Women who more identify their interests with those of their man (their son, even? or is that too much to believe?)
"lionisation of all things feminine and it's contempt for traditional masculinity (a subject for a future post)"
I look forward to that post.
In the mean time, if you don't care for UKIP, there's always the Official Monster Raving Loony Party. Why vote Loony> because as a guy, voting for them makes more sense than empowering the misandric sociopaths in the other parties. Voting UKIP sends a stronger message, but there are issues to be addressed there unless you're entirely voting for them as a protest? (a viable course of action. UKIP cannot form the next government absent increased effort by the main stream parties…hint, hint guys).

Related: From Conservative Woman Reader's Comment of the Day: Feminism is being challenged. The dam is breaking